ABBEY OF SAN VINCENZO AL VOLTURNO ISERNIA MOLISE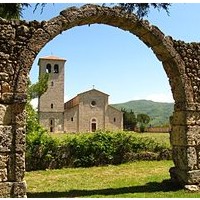 The abbey of San Vincenzo al Volturno is a historical Benedictine Abbey located in the municipalities of Castel San Vincenzo and Rocchetta a Volturno in the province of Isernia, in the upper valley of the Volturno.

The exterior of the abbey is marked by the establishment of Roman borders drawn before its construction. There are traces of walls and a colonnade with pointed arches just before the building's garden.

The abbey consists of the church and a building for the monks, faithfully rebuilt after the Second World War, to the right than the facade of the church.
The body of the church is to plant rectangular basilica with a gabled facade. important decorations are the rose window and the porch. On the left side stands an imposing bell tower with double arches bell ringers for each side.

The Palace of the monks is composed of a house made of rectangular rough stone and a church attached to this. Adjacent is an additional building with a museum room.

The interior has three naves with chapels placed next to the apse.
The remains of the frescoes still in situ visible today, showing the main scenes of the Gospel, but also of important historical events for the abbey, as intercession by Justinian and Charlemagne.

In addition to the abbey, the St. Vincent complex is divided into a Basilica and in a separate crypt. Originally the three buildings were connected by walls.

Basilica of San Vincenzo Maggiore

It is located just outside the abbey. It was the main place of worship, and was made in stone, with a rectangular plan with a transept, and divided into three naves. The columns were cylinder. It was surrounded by perimeter walls.

Not far from the Basilica lies the Crypt of Epifanio Bishop, who was part of a small oratory. Its interior is decorated with frescoes of the ninth century paintings, fairly well preserved. At the center of the crypt is a fresco of the Bishop Epifanio blessing, with nimbus square, and left a scene of the Crucifixion. Some times are frescoed with angels and a wall with the Martyrdom of St. Lawrence. A theory of saints and saints is depicted on the entrance walls, placed in front of each other.

ABBEY OF SAN VINCENZO AL VOLTURNO ISERNIA MOLISE
Informazioni article by:
REDAZIONE, Pisa